How Mortgage Lenders Make Money
By: Mike Tassone, COO & Co-founder of RateGravity
To help you understand how mortgage lenders make money, we referenced the Mortgage Bankers Association Q4 2015 report to keep this explanation completely objective.
Before we detail the loan economics, it's important to note that less than 2% of the revenue that a bank or mortgage company makes in its residential lending business is actually related to the interest you pay on your loan. This occurs because most all lenders sell their loans in the secondary market. For a lender that sells their loans, they only earn interest income from the date your loan closes until the date it is sold to an investor, which is often less than 30 days. The vast majority of lenders' income actually comes from fees they make from selling your loan.
In the US in 2015, the average loan size was $239,000. Below are the lender economics (presented in both dollars and as a percentage of loan the amount as reported in the MBA report) including revenues, expenses and income (profit) on a per loan basis: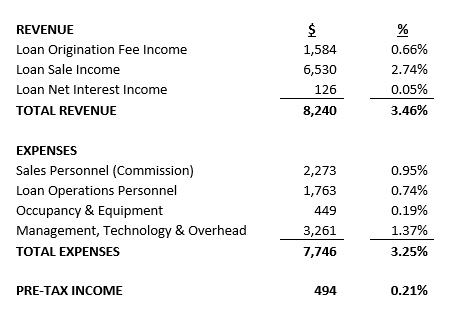 The average lender makes $8,240 in revenue but incurs $7,746 in expenses to generate this revenue, leaving them with just $494 in pre-tax profit. Given the resources involved and the fact that during the time period studied, it took 48 days on average to close a mortgage, it is a bit surprising on the surface that lenders would go through all of this effort for less than $500. But this is an industry where scale is important as the more loans a lender can originate, the more it can distribute its fixed costs (compliance, overhead, occupancy etc.) and improve profitability.
There are a few items to note from this income statement. Under revenue, the origination fee income is comprised of the fees that borrowers pay to the lender to help defray the cost of their operations. For most lenders the purpose of an Origination Fee is to cover a portion of their operating expenses, but what's interesting is that without this fee income, the average lender would lose money on every loan they originate.
On the expense side, the commission paid to the salesperson or Loan Originator represents the single largest expense that a lender incurs. There are number of expenses included in Management, Technology and Overhead and these include professional and outsourcing costs, loss reserves, compliance etc. This is the section of the expense ledger that can be reduced most dramatically as a lender increases its production levels.